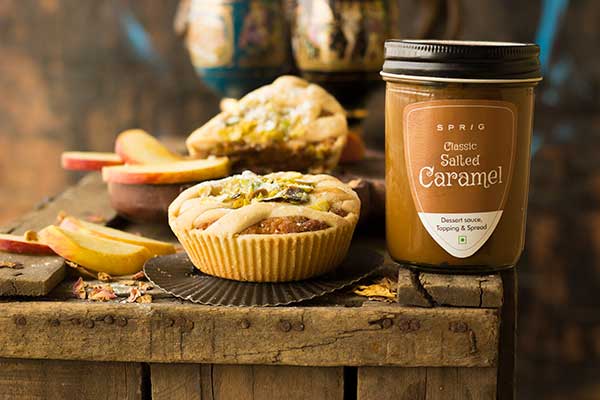 Prep time: 45mins
Cook time: 1 hr
Serves 4
Ingredients
Chilled Buttered Pie crust dough, enough to roll out into two 9 inch diameter pie plate
1 cup  Sprig salted caramel
8 apples, peeled, cored, and thinly sliced
1/3 cup fresh squeezed lemon juice
3 tablespoons granulated sugar
1/2 cup light brown sugar
1/2 teaspoon Sprig cinnamon, ground
1/4 teaspoon ground allspice
1/4 teaspoon freshly grated nutmeg
1/8 teaspoon black pepper
1/4 teaspoon salt
3 tablespoons all-purpose flour
1 large egg plus 1 teaspoon water, beaten
1 teaspoon Sprig Lavender sea salt, divided
Instructions
For the Crust:
Preheat oven to 400 degrees . Lightly grease a pie plate with butter and set aside.
Roll out one portion of the chilled dough on a lightly floured work surface, rolling it to a size enough to cover your pie plate from all the sides but from the top.
Gently place the dough into the prepared pie dish and trim the edges.
Place pie shell in the fridge while you prepare your lattice topping.
Line a large baking sheet with parchment paper and set aside.
On a lightly floured work surface, roll out the second disk of chilled dough, rolling it out into size enough to cover the top of the pie.
Slice the dough into 8 even sized strips using a pizza/pastry wheel.
Carefully transfer the strips onto the prepared baking sheet and place the pan in the fridge while you prepare the apple filling.
For the Apple Filling:
In a large bowl combine the sliced apples and lemon juice, toss well to coat the apples in the lemon juice.
Sprinkle with granulated sugar and set aside for 30 minutes.
In a separate large bowl, combine the salted caramel spread, brown sugar, cinnamon, allspice, nutmeg, black pepper, salt, and flour.
Add the sliced apples into the mixture, leaving excess liquid behind and coat it evenly.
Tightly layer the apples into the prepared pie shell and sprinkle with a 1/2 teaspoon lavender sea salt.
Weave a nice lattice with the pie dough crust strips, seal the sides and trim off the excess length of the pie strip.
Chill the pie in the fridge for 15 minutes.
In the meantime, beat together the egg and water. Once pie has chilled, brush the pastry with the egg wash. Sprinkle with remaining Lavender sea salt.
Bake pie on the bottom rack of the preheated oven for 30 minutes, reduce the heat to 375 degrees, and continue baking for an additional 30 minutes, or until the crust is golden and the filling is bubbling.
Allow pie to cool completely on a wire cooling rack; about 4 hours.