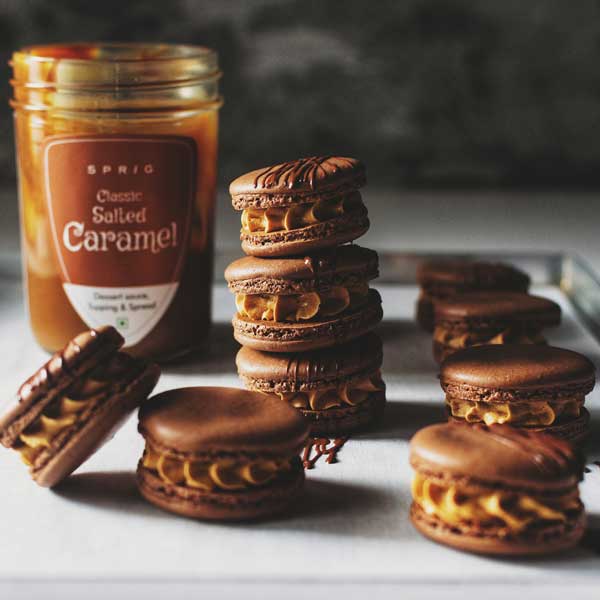 Indulge in the exquisite blend of flavors with our Dark Chocolate and Salted Caramel Macarons. These delicate treats harmonize rich dark chocolate with the perfect touch of luscious salted caramel. Savor the sweet symphony in every bite.
Preparation + Baking Time: 1 hour 45 minutes
Makes: Around 30 Macarons
INGREDIENTS:
Macaron Shells:
90-100 g Egg Whites (approximately 3 eggs) at room temperature
110 g icing sugar/powdered sugar (both have worked)
100 g almond flour
25 g cocoa powder
A pinch of salt
85 g castor sugar/superfine sugar
FILLING:
60 g butter (unsalted, at room temperature)
50 g icing sugar
A pinch of salt
METHOD:
Make your own almond flour by pulsing almonds (this recipe uses raw almonds) in a food processor until finely ground. It always helps to add the icing sugar halfway through the process to blend evenly. Once it is finely blended, sift this mixture along with the cocoa powder into a medium-large bowl.
Take your egg whites in a large, clean, free of grease bowl, add the pinch of salt and using a stand mixer or a hand mixer blend until frothy. Then start adding the castor sugar little by little as you beat the egg whites continuously. Next add the vanilla extract. Keep beating till you reach stiff peaks, it usually takes 8 minutes but the time may vary so keep checking.
Now, add a third of the dry mixture into the meringue and fold it in using a spatula, do not stir, fold. Once it is mixed in, add another third, repeat folding and once that is mixed in, add the remaining dry ingredients.
IMPORTANT: Begin folding, now, using your spatula go around the bowl and then through the mixture, gently continue folding and after every 6-8 folds lift your spatula and check the consistency of the batter. It should flow easily like a thin ribbon (YES, a thin flat ribbon) and you should be able to draw an 8 in a continuous flow. When you achieve this stage, stop mixing. Transfer this mixture into a piping bag.
On a flat, good quality baking sheet, put a piece of parchment paper, now pipe dollops of this macaron batter. You can use a macaron template to get even circles or just eyeball it. According to the size of your macaron, leave some space between the dollops. Once all the mixture has been piped, bang your baking sheet and let the macarons settle.
Set these trays aside to dry. Meanwhile, preheat your oven to 150C.
Once your macarons are dry, it will take around 10-45 minutes depending on the humidity of your kitchen. You can check the done-ness by slightly touching your macaron and it won't stick to your finger.
Bake these macarons for 15-20 minutes. At 150 it takes that time, in my oven. To check if they are done, they will have the feet and if you slightly touch the top of the shell, the feel will not be wobbly.
Once done, take the macarons out of the oven and let them cool completely on the baking tray on a wire rack.
Meanwhile make the frosting: Blend the butter, sugar and Sprig's Classic Salted Caramel and a pinch of salt until light and fluffy, about 5 minutes on high.
Once the macaron shells are cool, pair them up and fill and sandwich them. Refrigerate the macarons for at least 1 hour before consuming for best taste.