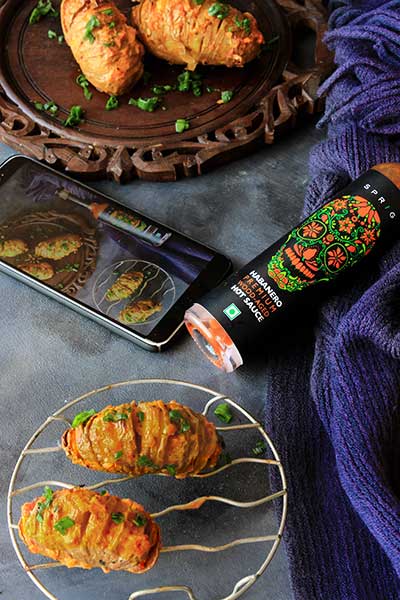 Serves 2 to 4
Prep time: 15 mins
Cook time 1hr
Ingredients
6 medium sized to large potatoes
2 Tomatoes
6 tablespoons melted butter
Sprig Habanero Sauce 2 to 3 tbsp
Sprig Chipotle Smoked Sea Salt
Mozzarella Cheese Grated 3 cups
Sprig 6 Pepper Medley
Garlic 6 to 8 pods
Instructions
Preheat oven to 250°C.
Make thin (¼-inch approx.) slices across the potato, making sure you do not cut through the bottom of the potato.
Transfer the potatoes to a baking sheet lined with parchment paper, then brush the butter evenly on both of the potatoes.
Sprinkle a bit of salt and pepper on top of the potatoes, then bake for about 30 minutes until the slices of each potato have started to separate and crisp up.
In the meanwhile, roast the tomatoes and the garlic pods on a gas top until the skin of the tomato comes off.
Finely chop the tomatoes and the garlic and transfer to a mixing bowl. Add the grated cheese and Habanero Sauce. Mix well and set aside
Remove the potatoes and lower the oven heat to 180°C.
Place approx. 1 teaspoon of the cheese tomato mix in between the slits in the potatoes, then return to the oven and bake for about 10 minutes, until the cheese is melted.
Garnish each potato with spring onion.
Serve hot.