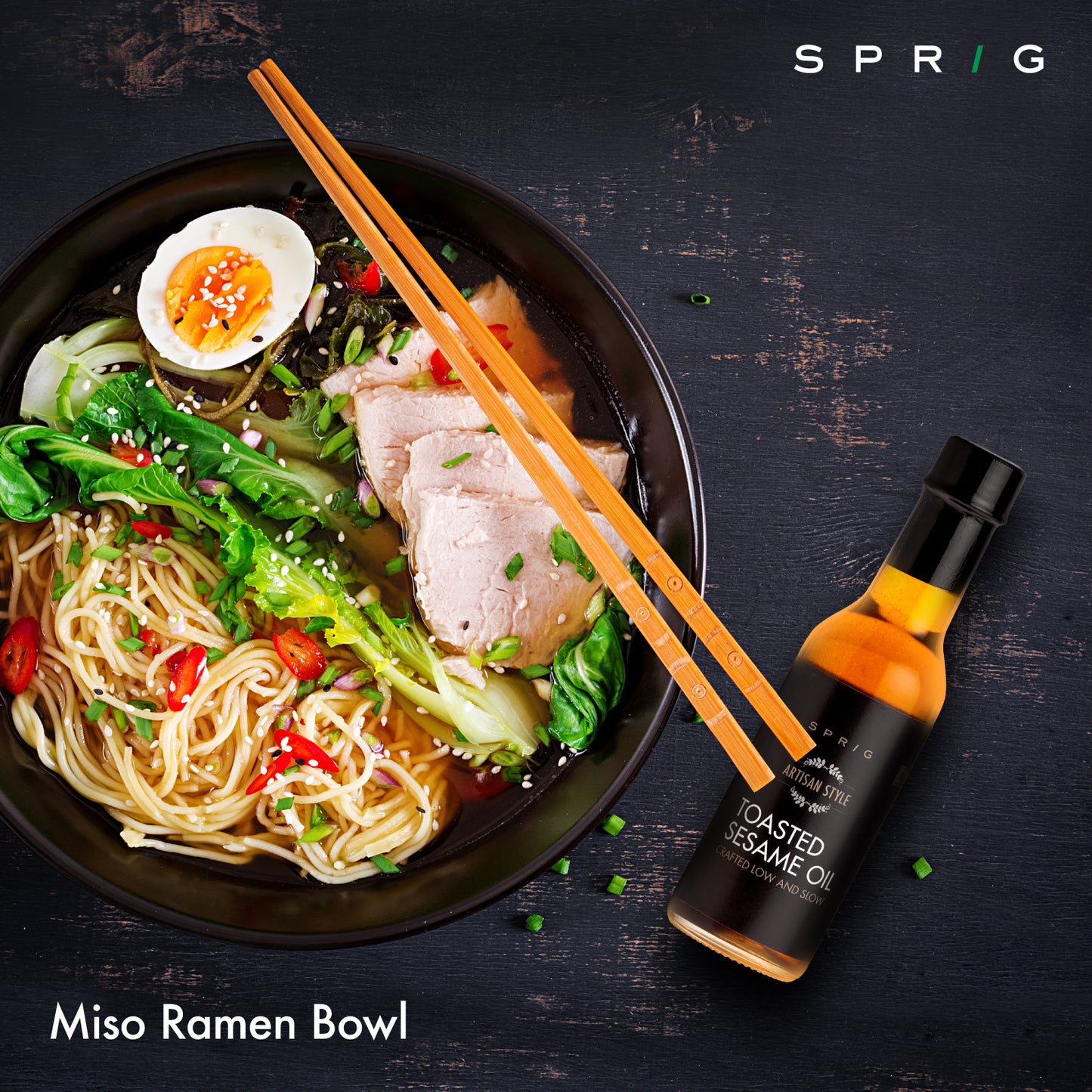 Miso Ramen Bowl 
Ramen is a great idea whether you're just home alone and hungry or if you have a whole gang of guests at home. With the right recipe, it can be a filling daily staple as well. Try this version with chicken and the richness of Sprig's Toasted Oil, and we promise you'll be back for more. And if you're a vegetarian reading this, despair not – Simply replace the chicken and tofu and follow the recipe! Happy slurping!  
Ingredients: 
200g ramen noodles, cooked as per package instructions 

2 tbsp miso paste 

500 ml chicken / vegetable stock 

2 tbsp Sprig Toasted Sesame oil 

2 tbsp vegetable / olive oil 

Soy sauce to taste 

500g boneless chicken thighs, diced into pieces 

1 packet mushrooms, sliced 

2 carrots, diced 

1 celery stem, finely chopped 

1 medium onion, sliced 

4 cloves garlic, finely chopped 

1 bunch spring onion greens, chopped 

1 head of pak choy  
Method: 
Marinate the chicken pieces in soy and 1 tbsp of sesame oil, keep aside for 15 mins.   

Heat oil in a heavy bottomed pan. Add garlic & cook for a few minutes. Next add onions and sauté till fragrant.  

Add celery and carrots and sauté for a few minutes. Then add mushrooms and cook until slightly browned.  

Add salt (to taste) & miso paste, and mix well. 

Pour in the chicken / vegetable stock and bring to a boil. 

Add in the chicken, and let it simmer till the chicken is cooked.  

Adjust seasoning with soy & miso if needed. 

Turn off heat and add the pak choy leaves, just to slightly wilt them. 
Assembly: 
In a bowl, add the cooked ramen noodles. Add in the chicken and vegetables and top up with the miso broth. 

Add pak choy & spring onion greens. 

Garnish with sesame oil, chilli oil & sesame seeds.  

Slurp and enjoy!