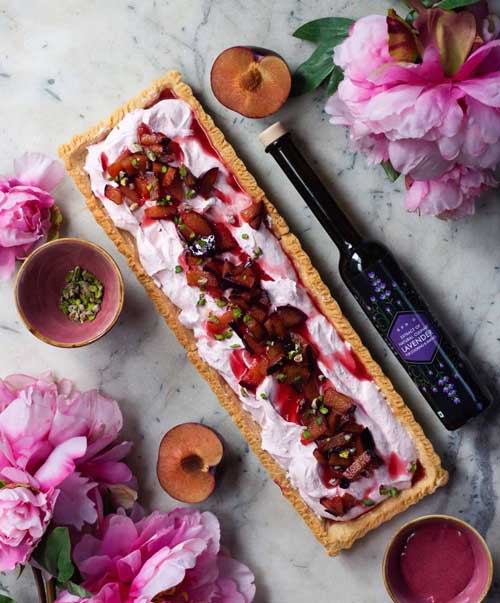 INGREDIENTS-
TART SHELL
1/2 cup caster sugar
1/4 cup light

 

brown sugar

1/2 cup butter (113 grams/ 8 tbsp), cold and cubed
1 egg yolk
1 + 1/4 cups all purpose flour
FILLING
1 cup whipped cream
1/4 cup plum curd
fresh plums and pistachios, to top
PROCEDURE-
Pre-heat the oven to 180C.
In a large bowl, mix flour and sugars.
Using your hands mix in the cold butter. The mixture will have a sandy texture.
Beat in the egg yolk. Mix and knead until the dough comes together.
Use your fingers to press the dough into the bottom and up the sides of a 9″ tart pan or a rectangular pan. Refrigerate the tart shell for at least one hour or until the dough is firm.
Use a fork to prick the bottom of the tart shell and then bake at 180C for 15-20 minutes or until the tart shell is golden brown.
To make the filling, add lavender extract and plum curd into the whipped cream.
Spread the filling into the tart shell, once it's completely cooled. Top with fresh plums and pistachios.
Your plum lavender tart is ready.