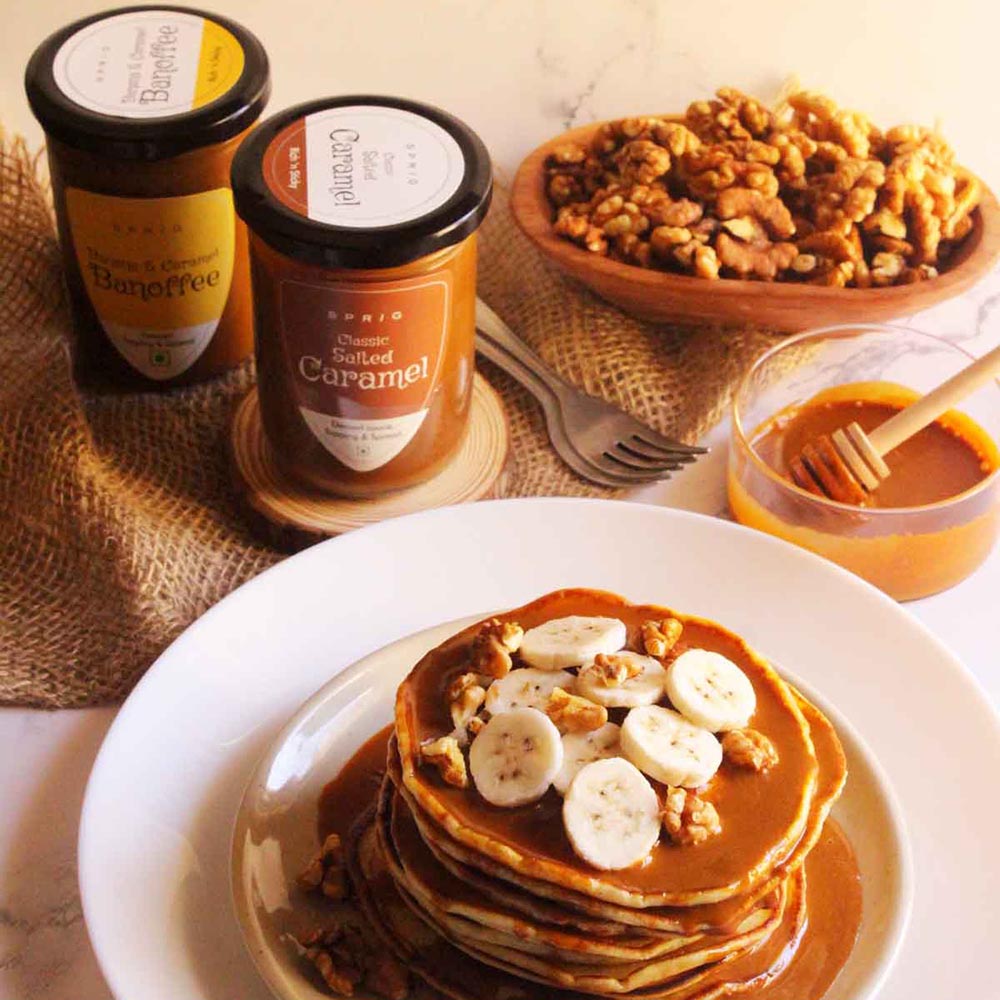 For Pancakes:
1 cup whole wheat flour
1 tablespoon baking powder
⅔ cup milk of choice (dairy/almond)
½ cup mashed ripe banana (about 1 large banana)
1 large egg
2 tablespoons honey
1 Tsp of SPRIG Banoffee Spread
2 tablespoons unsalted butter or oil
½ teaspoon SPRIG vanilla extract
For Topping:
½ Sliced Banana
¼ Cup Chopped Walnuts
Method:
In a small bowl, combine milk, mashed banana, Sprig Banoffee spread, egg, honey, butter, vanilla extract. Whisk together until it blends well.
In another bowl, add the whole-wheat flour and baking powder. Mix it well.
Pour the liquid mixture into the flour mixture and mix till combined.
Heat a pan and lightly grease the surface with oil / butter and pour the batter using a measuring scoop (1/2 cup recommended)
Cook until you see small bubbles form on the surface of the pancakes.
Flip the pancake and then cook till light golden brown on both the sides.
Repeat the process with the remaining batter.
Serve immediately
For serving:
Arrange the pancaked in layers, pour the SPRIG Salted Caramel Spread (Dilute it using warm water).
Add chopped walnuts and sliced banana on top
Serve and Enjoy!
Note: You can use the milk of your choice (Dairy or Nut Milk or Coconut Milk)