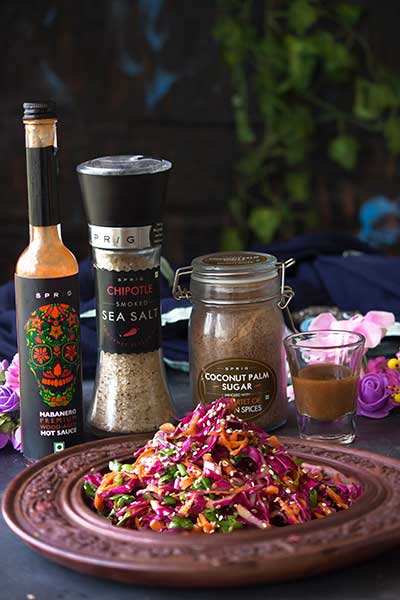 Sweet, Spicy, and Tangy Red Cabbage Slaw recipe is a delightful twist on the classic coleslaw. This colorful and crunchy slaw is bursting with flavors, thanks to the combination of sweet honey, tangy apple cider vinegar, and spicy red pepper flakes. The red cabbage is thinly sliced and mixed with grated carrots, chopped red onions, and fresh cilantro, making it a perfect side dish or topping for sandwiches and tacos. This recipe is easy to make and can be prepared in advance, making it a great option for picnics, potlucks, and barbecues. Give it a try and take your salads to the next level!
Servings: 8 servings
Prep time 15mins
Ready in 20 mins
Ingredients
For the Salad
1 small head red cabbage, shredded
2 large carrots, shredded
4 Spring onions whole, thinly sliced.
For the Dressing
Instructions
Place shredded cabbage, carrots and green onions in a large salad bowl. Set aside.
In a mixing bowl, whisk together coconut palm sugar and olive oil, whisk until the coconut palm sugar is dissolved completely. Add the tamarind pulp and whisk again. Then add the remaining ingredients for dressing; whisk until well combined.
Pour dressing over the cabbage mixture and toss to combine.
Taste for seasonings and adjust accordingly.
Place in the refrigerator for 15 minutes.
Remove from fridge and garnish with chopped parsley and Serve.