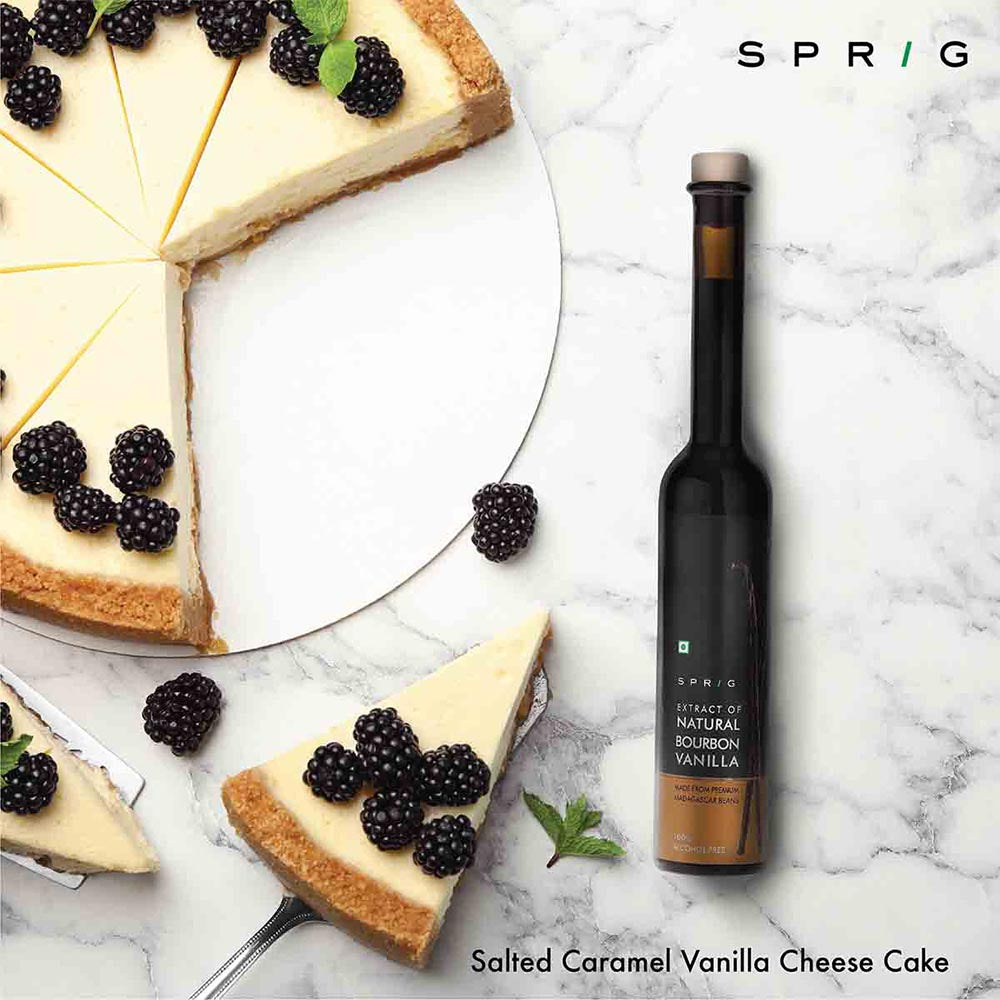 For the Crust
Butter - 85 gms
Digestive biscuits- 140 gms
Sugar - 1 tbsp
For the cheesecake
Cream cheese - 900 gms
Castor Sugar - 250 gms
Flour - 3 tbsp
SPRIG vanilla extract - 1 1/2 tsp
Lemon zest (grated) - 2 tsp
Lemon juice 1 1/2 tsp
Eggs - 3 large, plus 1 yolk
Sour cream - 284 gms/ml
For the topping
METHOD
For the crust, melt 85 gms butter in a medium pan. Stir the digestive crumbs and 1 tbsp sugar so the mixture is moist.
Press the mixture into the bottom of a baking pan layered with parchment paper Pour in the filling and bake at 140 degrees Celsius for 15 minutes. Cool on a wire rack while preparing the filling.
For the filling , increase the oven temperature at 180 degrees Celsius and beat soft cheese until its creamy with a whisk or a table-top mixer with a whisk attachment.
Gradually add the sugar, plain flour and a pinch of salt. Scrape down the sides of the bowl and paddle twice.
Take a whisk and add in the Sprig Vanilla Extract, lemon juice and zest. Whisk in the eggs one at a time and gradually, scraping the bowl after mixing each egg at least once or twice.
Stir in the soured cream until smooth and continue at low speed , do not over beat. Batter should be smooth light and a little bit airy.
Brush the sides of the tin with butter and put it on a baking tray. Pour the filling if there are any lumps, sink them using a knife, the top should be as smooth as possible.
Bake for 10 minutes.Reduce the oven temperature to 120 degrees Celsius and bake foe 40-50 minutes more. If you gently shake the tin, the filling should have a slight wobble.
Turn off the oven and open the door for the cheesecake to breathe for a a bit.
Let it cool in the oven for two hours. The cheesecake might get a slight crack on top as it cools.
Take the SPRIG CARAMEL of your choice into a bowl and whisk it vigorously for about 2 - 3 minutes till its smooth and velvety in texture,
Refrigerate the cheesecake for another 2 hours and pour the Sprig Salted Caramel over the top of the chilled cheesecake. let the excess caramel drip off the sides and chill in the refrigerator for another 30 minutes. 
Slice and portion as desired and serve chilled.