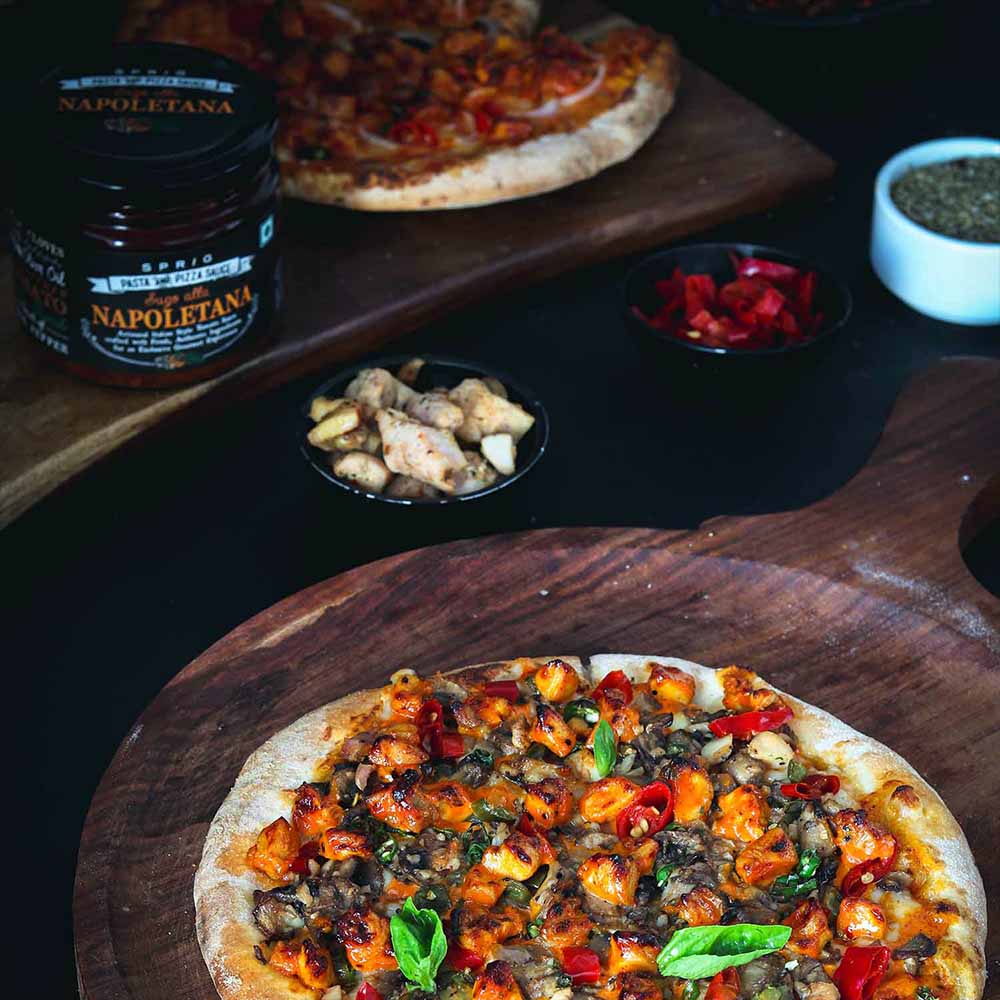 Ingredients
½ to 1 

cup

sautéed Button mushrooms

½ to 1

cup

grilled Chicken Breast

(cubed)

¼th cup Red paprika/ Jalapeno

½ cup sliced Onion,

1/4th cup sliced Bell peppers

Italian seasoning

– optional as the Sprig's Napoletana Sauce already has it

Mozzarella cheese

or pizza cheese, as required

P

armesan cheese

, as required

R

ed chili flakes

– as required

Medium size pizza base( preferably homemade)

6 tbsp of Sprig Napoletana Sauce

4 pods of Garlic, minced

1 tbsp Olive oil
Making Pizza Sauce
Heat olive oil. Fry the minced garlic for some seconds. 
Add the Sprig's Napoletana Sauce.
Mix and sauté uncovered for 2 minutes.
Add the herbs. Mix well.
Assembling And Baking Chicken Napoletana Pizza
Preheat your oven at 230 degrees Celsius (450 degrees Fahrenheit) for 20 minutes.
Brush some olive oil on the pizza base. 
Spread the sauce on the pizza.
Top shredded mozzarella cheese, mushrooms, veggies & chicken chunks .
Sprinkle some grated parmesan cheese.
Bake for 10 to 15 minutes at 230 degrees Celsius (until the base becomes golden brown and the cheese on top melts.
Wait for a minute or two and serve pizza while still hot.