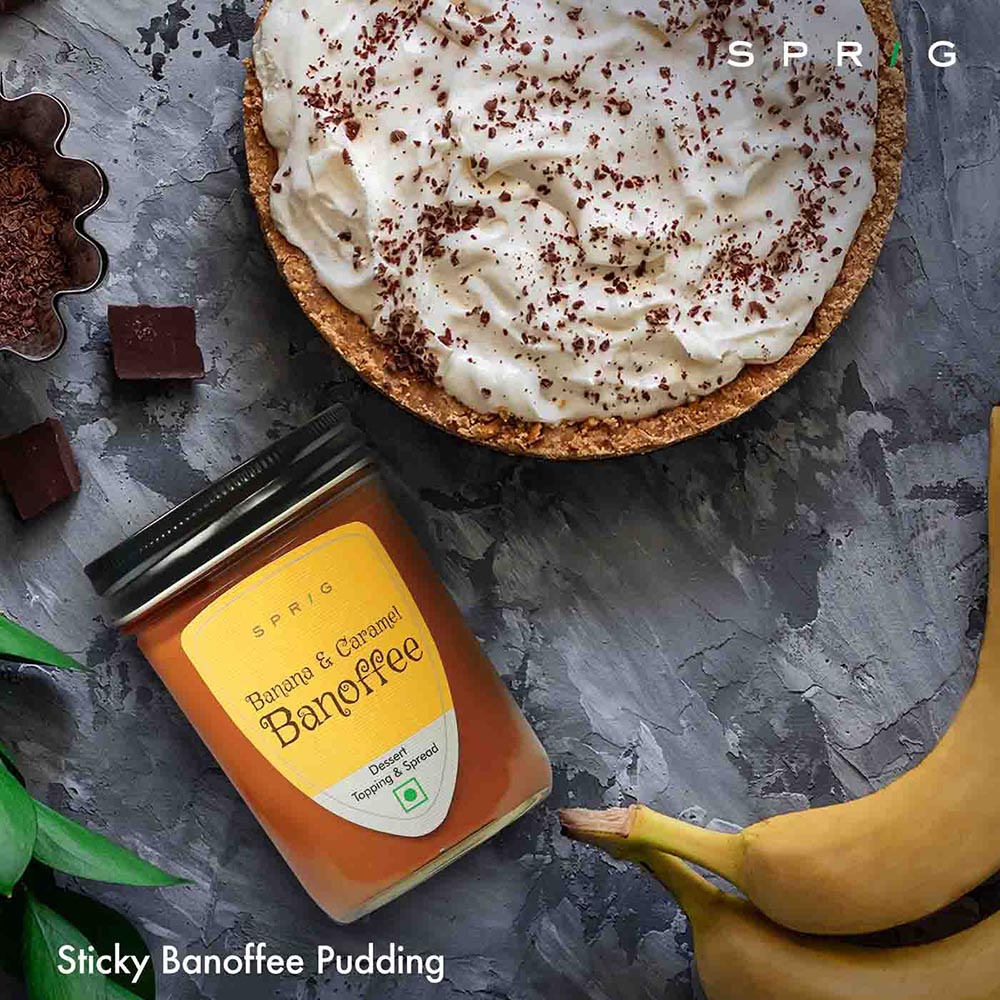 Ingredients:
For the Cake
- Bananas – 3 No's
- Castor or Ground Sugar – 3/4th Cup
- Sprig's Natural Bourbon Vanilla Extract – 1 Tsp.
- Yogurt – 1/4th cup
- Flavorless Oil – ½ Cup
- Wheat Flour – 2 Cups
- Baking Powder – 1 Tsp.
- Baking Soda – 1/4th Tsp.
- Cinnamon Powder – 1/4th Tsp.
- Salt – A pinch
For the Syrup
- Sprig's Banana and Caramel Banoffee – 1/4th Cup
- Fresh Cream – 100 Ml
Method:  
Start by cutting the ripe bananas and beating them into a smooth mixture, if the bananas aren't ripe, put in the oven for about 10 mins at 200 degree Celsius and they shall ripe.
Add in the sugar and mix till it forms a smooth mixture.
Beat in the Sprig's Natural Bourbon Vanilla Extract, yogurt, and flavorless oil till well combined and smooth.
Sieve the dry ingredients in the ready mix, the wheat flour, baking powder, cinnamon powder, baking soda and salt to taste.
Form the batter by using the cut and fold technique, don't overmix the batter.
Add the batter to a oven safe dish and bake it in a preheated oven at 180 degree Celsius for 60 mins or till a fork inserted comes out clean.
Next we start with the syrup, mix in the Sprig's Banana and Caramel Banoffee and the fresh cream and cook till there is a boil in the syrup, turn off the heat and store it in a cool and dry place.
Once the cake is done, let it cool then poke holes in the cake using a fork or a knife.
Spread the ready syrup evenly and let the cake soak it.
Serve the Sticky Banoffee Pudding warm or chilled as you like it.