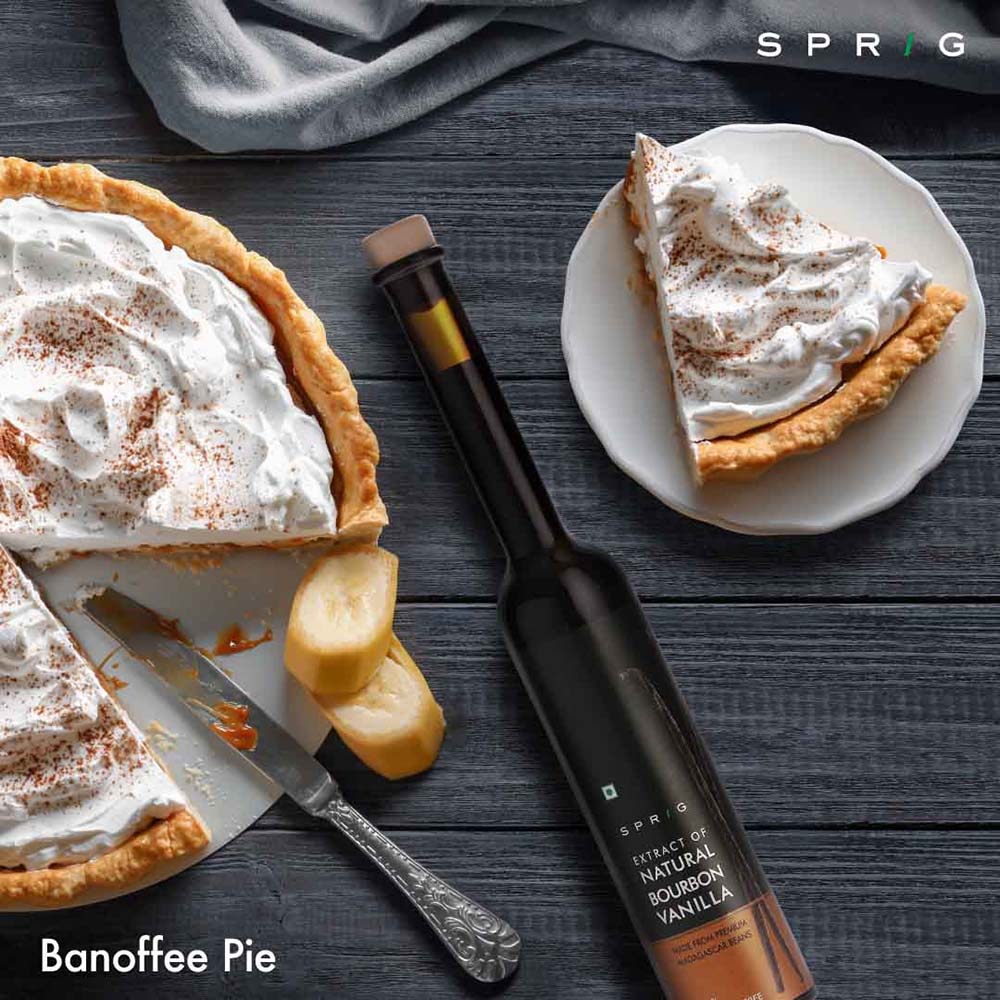 Ingredients
1 and 1/2 cups (150g) regular cracker biscuit crumbs. 
5 Tablespoons (72g) unsalted butter, melted
1/3 cup (67g) granulated sugar
1 and 1/4 cups SPRIG BANOFFEE CARAMEL
2 large bananas, sliced
Whipped Cream
2 cups (480ml) cold heavy cream or heavy whipping cream
1/4 cup sugar or granulated sugar
1 teaspoon SPRIG VANILLA EXTRACT
optional toppings: chocolate shavings, chopped nuts, or toffee bits for garnish.
Instructions
Preheat oven to 350°F (177°C)
Take the cracker biscuits and crush them in a zipped top bag with a rolling pin. Mix the cracker crumbs, melted butter, and granulated sugar together in a medium bowl until combined. The mixture will be thick, coarse, and sandy. Press the mixture into the bottom and slightly up the sides of a 9-inch pie dish. Make sure it is tight and compact. Use the bottom of a flat measuring cup to press it down tightly. Bake the crust for 15-16 minutes. Remove from the oven and allow to cool for at least 15 minutes (and up to 2 days) before adding the layers. Meanwhile, make the whipped cream. (Next step.)
For the whipped cream: Using a hand mixer or a stand mixer fitted with a whisk attachment, whip the heavy cream, sugar, and SPRIG VANILLA EXTRACT on medium-high speed until medium peaks form, about 3-4 minutes. Medium peaks are between soft/loose peaks and stiff peaks and are the perfect consistency for topping and piping on desserts.
Spread the SPRIG BANOFFEE CARAMEL on top of the crust. Arrange banana slices in 1-2 layers on top of the caramel, then spread whipped cream on top.
Refrigerate pie uncovered for at least 2 hours and up to 1 day. Garnish with toppings before serving, if desired
Cover and store leftover pie in the refrigerator for up to 5 days.