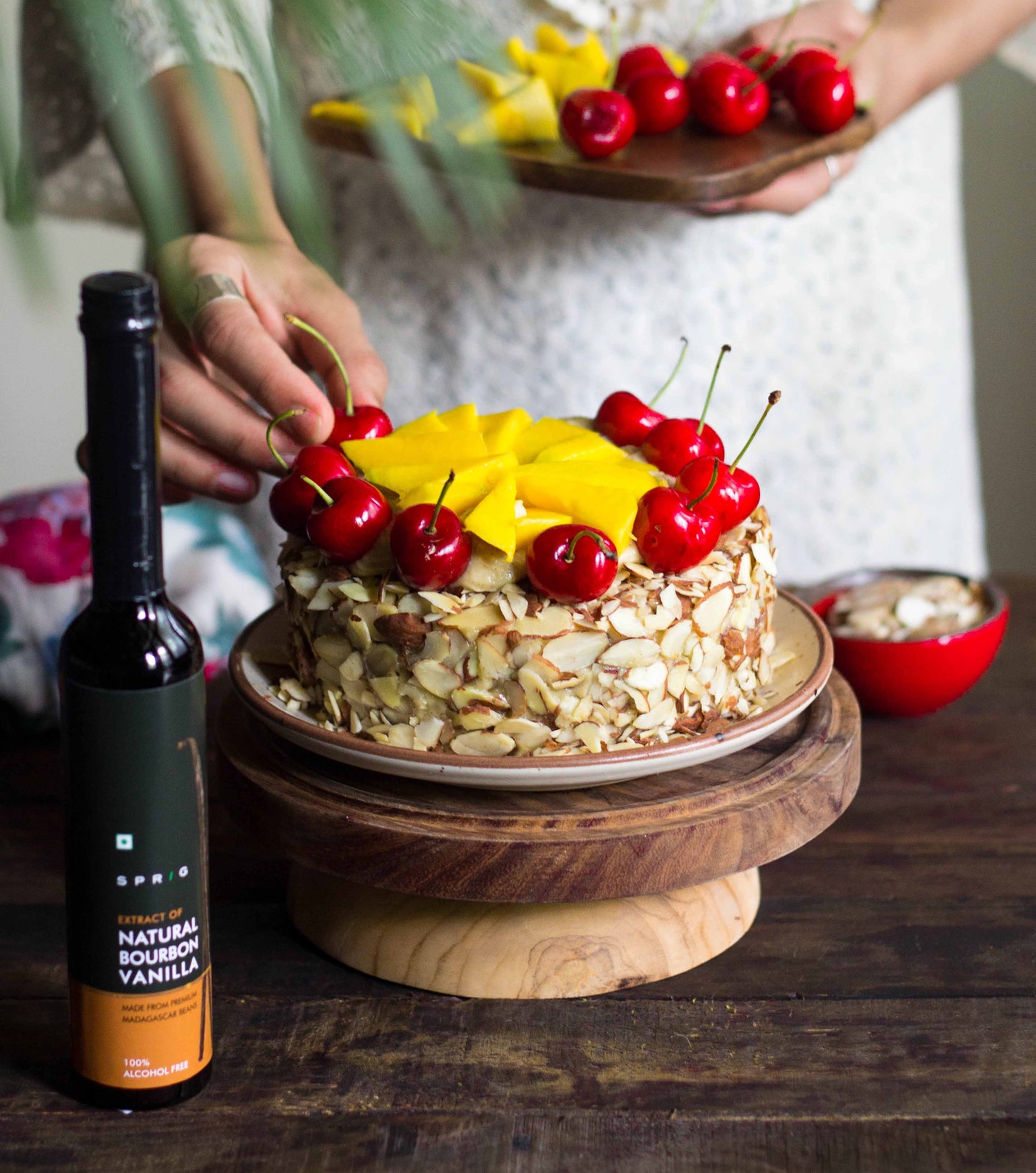 Ingredient List
Vanilla Cake:
3 Large Eggs(At room temperature)
¼ +⅛ Cups Sprig Coconut Sugar
1 ½ tbsp Avocado/Coconut Oil
1 ¼ +⅛ Cups Almond Meal
⅛ Cup Vanilla Custard Powder
3/4 tsp Baking Powder
For Cashew Cream Frosting:
1 Cup Cashews
⅓ Cup Coconut Milk or Almond Milk
4 Tbsp Maple Syrup or Honey
For Garnishing:
Flaked Almonds
Fresh Summer Fruits- Mango, Cherry
Method
For Cake
Preheat oven to 160/325 degrees. Grease and line a 6 inches Baking tin with parchment paper. Grease on parchment paper as well.
In a large mixing bowl, whisk Eggs with coconut sugar, Avocado Oil and Vanilla extract. Combine well.
Add Almond Meal, Custard powder and baking powder to the whisked egg mixture. Fold to form a smooth mix batter.
Pour in prepared baking pan and bake for 35-40 minutes or until a skewer inserted in cake comes out clean or with few moist crumbs.
Cool for 10 minutes before removing from pan. Completely cool before frosting.
For Cashew Cream frosting
Soak the cashews with the milk, vanilla extract and Maple syrup for atleast 1 hour. The longer you soak, the smoother the frosting will be. Blend in a high speed blender until smooth and creamy. Refrigerate until using.
For Cake assembly
Place the cooled cake on a cake stand or serving plate. Spoon the cashew cream frosting on top and spread on sides of cake.
Refrigerate for a few minutes. Smoothen the frosting with a spatula and coat the sides and top with almond flakes.
Place the cut fresh fruits just before serving.