Sprig Bhut Jolokia Hot Sauce: Experience the heat like never before, featuring the renowned 'Ghost Pepper,' one of the hottest chillies in the world. Prepare to ignite your taste buds as you indulge in its blazing hot intensity. Take a small dab of this pungent sauce and relish its smoky smoothness and raw heat. With an astonishing 75,000 Scoville heat units, it surpasses most chilli sauces by over 30 times. Brace yourself for the ultimate Hot Sauce Challenge!

Ingredients: Water, Coconut Vinegar, Bhut Jolokia Chilli 25%, Common salt, sugar, spices and condiments, Thickener INS 415, Class II Preservative INS 211, INS 202
Best Before 12 Months from Manufacture
Applications:
Spicier Chicken Wings: Elevate the spice level of your spicy chicken wings by adding Sprig Bhut Jolokia Hot Sauce. It will take the heat to new heights and leave you craving for more fiery deliciousness.
Unforgettable Dip: Create a dip like never before by mixing Sprig Bhut Jolokia Hot Sauce with mayonnaise. Brace yourself for a sensational combination of creamy richness and scorching spice that will tantalize your taste buds.
Extra Spicy Dhal Tadka: Add a couple of drops of Sprig Bhut Jolokia Hot Sauce to your Dhal Tadka for an extra kick of spiciness. Watch as the flavours intensify and elevate your traditional dish to a whole new level.
Lift the Spice Level of Gravy-based Curries: Enhance the spice level of any gravy-based curry by incorporating a few drops of Sprig Bhut Jolokia Hot Sauce. It will ignite your palate and infuse your curry with a fiery twist.
Sprig's Jalapeno Salsa Sauce: A Delightful and Zesty Condiment to Excite Your Palate.

Looking for a flavor-packed condiment to tantalize your taste buds? Look no further than Sprig's Jalapeno Salsa Sauce! Crafted using meticulously chosen Jalapeno peppers, this delectable sauce offers a harmonious blend of heat, tanginess, and invigorating flavors. Indulge in the authentic essence of Jalapeno peppers, expertly captured in every bottle. Experience the fiery allure and vibrant characteristics of this sensational sauce. Try Sprig's Jalapeno Salsa Sauce today and elevate your culinary adventures!

Our Jalapeno Salsa Sauce is incredibly versatile and can be used in various ways to enhance your meals.

Ingredients: Jalapeno Chilli (50%), Coconut Vinegar, Salt, Spice and Condiments (Onion, Coriander, and Garlic), Thickening agent (INS 415).
Best before 12 months from manufacture.
Applications:
Dipping Sauce: Serve the Jalapeno Salsa Sauce as a zesty dip alongside tortilla chips, nachos, or vegetable crudités. Its bold flavors and spicy kick will keep you coming back for more.
Mexican-Inspired Dishes: Elevate your favorite Mexican dishes with a spoonful of Jalapeno Salsa Sauce. Whether it's tacos, burritos, enchiladas, or quesadillas, this sauce will bring an authentic and fiery Mexican flavor to your creations.
Grilled Delights: Brush the Jalapeno Salsa Sauce onto grilled meats, such as chicken, beef, or shrimp, to infuse them with its tangy and spicy profile. It's the perfect companion for outdoor barbecues and cookouts.
Breakfast Boost: Start your day with a fiery kick by adding a dollop of Jalapeno Salsa Sauce to your scrambled eggs, omelets, or breakfast burritos. It will energize your taste buds and make breakfast an exciting experience.
From the blog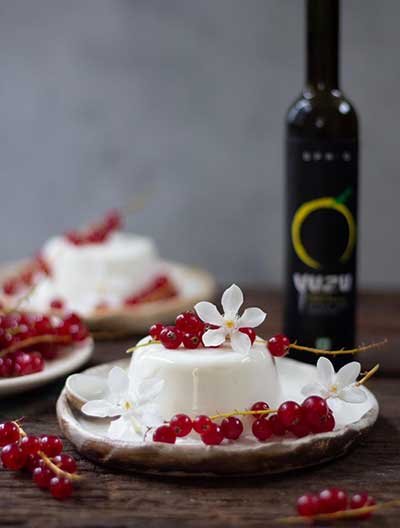 Sprig Yuzu Panna Cotta - a delightful fusion of creamy indulgence and the bright, zesty essence of yuzu. Crafted with...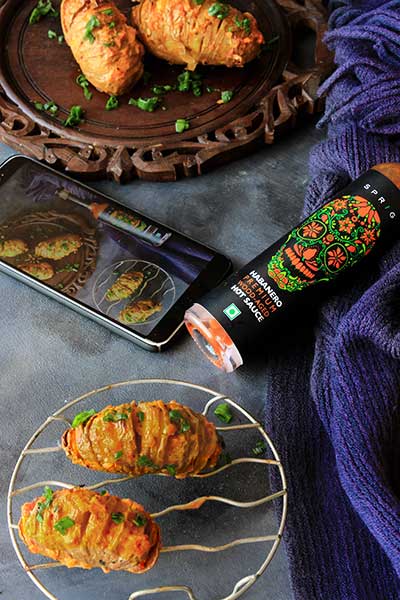 Try this fiery and tantalizing Sprig Habanero Spiced Hasselback Potato, generously loaded with oven-roasted Tomato and Garlic! This culinary masterpiece combines the perfect blend of heat, flavor, and texture, making it an irresistible dish for spice enthusiasts and food lovers alike.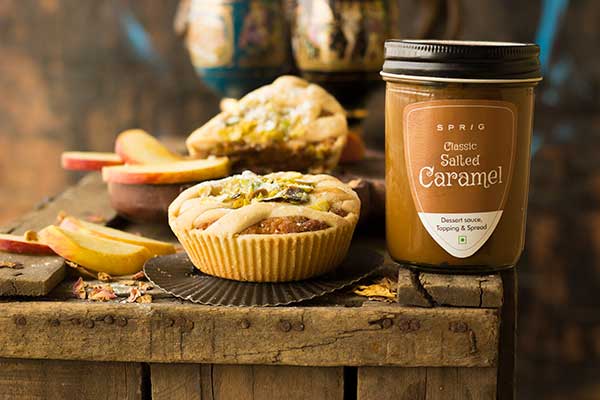 Savor the perfect balance of sweet and savory with Sprig Salted Caramel Apple Pie. This flaky, buttery crust holds a delightful blend of freshly sliced apples tossed in cinnamon and sugar. But what truly sets this pie apart is the layer of velvety Sprig salted caramel that blankets each slice. Baked to golden perfection, it releases an irresistible aroma. Indulge in this heavenly dessert, perfect for any occasion.