Indulge in the Exquisite Delights of Sprig Chocolate Coffee Spread:
Discover a world of irresistible flavors in our meticulously crafted chocolate and coffee spread. Made with cold-brewed Mocha coffee beans, luscious slow-cooked caramel, and rich, dark Cacao, this divine creation is a symphony of alluring aromas and decadent indulgence.
Applications:
Decadent Desserts: Elevate your dessert game by incorporating Sprig Chocolate Coffee Spread into cakes, brownies, cookies, and truffles. The rich and velvety texture will infuse your creations with a delightful coffee and chocolate twist.
Gourmet Beverages: Add a spoonful of Sprig Chocolate Coffee Spread to your hot cocoa, milkshakes, or smoothies for a luxurious and indulgent twist. The rich flavors will transform your favorite beverages into a delightful treat.
Creative Toppings: Drizzle Sprig Chocolate Coffee Spread over ice cream, pancakes, waffles, or yogurt to enhance their flavors and create a visually appealing presentation. The decadent combination of chocolate and coffee will add a touch of elegance to any dish.
Gourmet Sandwiches: Spread a layer of Sprig Chocolate Coffee Spread on bread or croissants for a unique and flavorful twist to your sandwiches. Pair it with sliced bananas or strawberries for a delightful combination of flavors.
Sweet Dips and Spreads: Create delectable dips by blending Sprig Chocolate Coffee Spread with cream cheese or Greek yogurt. Use it as a dip for fruits, pretzels, or crackers, or spread it on toast or bagels for a delightful breakfast or snack.
Gourmet Coffee Enhancer: Stir a spoonful of Sprig Chocolate Coffee Spread into your freshly brewed coffee for a luscious and indulgent experience. Let the flavors meld together as you savor each sip.
About this Item:
Exquisite Blend: Crafted with care, Sprig Chocolate Coffee Spread harmoniously blends cold-brewed Mocha coffee beans, slow-cooked caramel, and rich, dark Cacao. Each element is thoughtfully selected to ensure a perfect balance of flavors that will captivate your senses.
Quality Ingredients: Sprig prioritizes quality, sourcing premium Mocha coffee beans and carefully selected Cacao to create a spread that embodies excellence. The slow-cooked caramel adds a luxurious touch, imparting a velvety smoothness to every spoonful.
Handcrafted with Care: Each jar of Sprig Chocolate Coffee Spread is meticulously handcrafted to ensure the highest level of quality and flavor. From the careful blending of ingredients to the precise consistency, every step is carried out with passion and expertise.
Ingredients: Milk, Cane Sugar, Cocoa 10%, Cold Brewed Coffee 3%, Cocoa Butter.
Best before 12 months from manufacture.
From the blog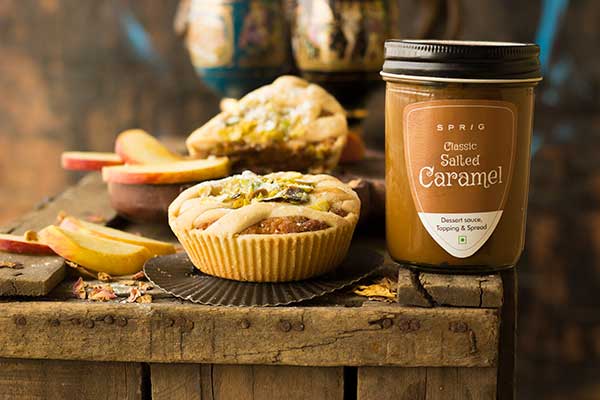 Savor the perfect balance of sweet and savory with Sprig Salted Caramel Apple Pie. This flaky, buttery crust holds a delightful blend of freshly sliced apples tossed in cinnamon and sugar. But what truly sets this pie apart is the layer of velvety Sprig salted caramel that blankets each slice. Baked to golden perfection, it releases an irresistible aroma. Indulge in this heavenly dessert, perfect for any occasion.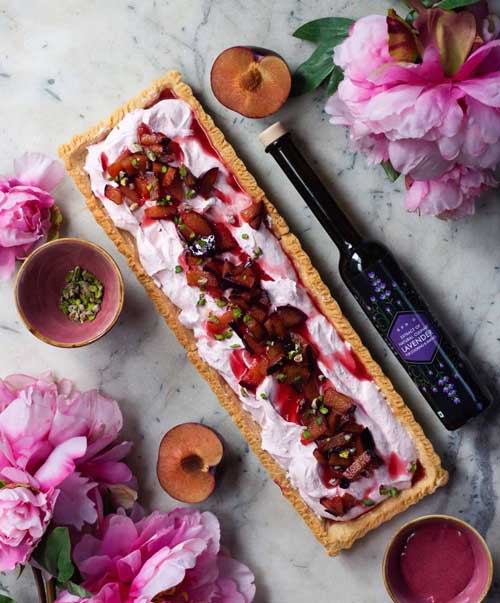 Treat yourself to the exquisite taste of our Sprig Plum Lavender Tart! Made with a buttery crust, sweet plums, and a generous sprig of premium-quality Sprig lavender, this dessert is a true indulgence. Our handpicked lavender adds a touch of natural sweetness and aromatic flavor to every bite, making it the perfect complement to the rich flavors of the plums. Elevate your dessert game and impress your guests with the luxurious taste of our Sprig Plum Lavender Tart. Order now and experience the ultimate dessert indulgence!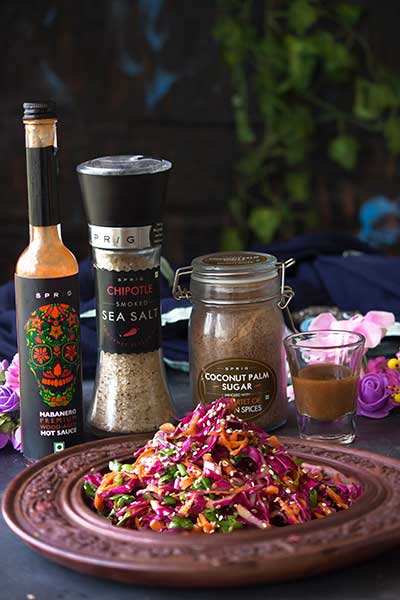 Sweet, Spicy, and Tangy Red Cabbage Slaw recipe is a delightful twist on the classic coleslaw. This colorful and crunchy...