Indulge in the Fiery Boldness of Sprig Chipotle Adobado Marinade & Sauce, Infused with Earthy, Smoked Notes!

Experience the captivating blend of bold heat and earthy, smoky flavors in our Chipotle Adobado. Crafted from dried and smoked red Jalapeño peppers, this versatile ingredient is a staple in Mexican cuisine. The drying process eliminates moisture, intensifying the peppers' natural flavors, while the smoking adds a remarkable depth and intensely woody taste.

Applications:
Marinating Meats: Use Sprig Chipotle Adobado as a marinade for meats such as chicken, beef, or pork. Let the bold flavors and smoky notes infuse into the meat, creating a tantalizing taste experience.
Grilled Delights: Brush Sprig Chipotle Adobado onto grilled dishes like vegetables, kebabs, or seafood for a burst of fiery flavor and a touch of smokiness. Elevate your outdoor cooking with this versatile sauce.
Tacos and Burritos: Drizzle Sprig Chipotle Adobado over tacos, burritos, or quesadillas to add a spicy and smoky kick. It enhances the flavors of the fillings and brings a delightful depth to your Mexican-inspired creations.
Dips and Spreads: Mix Sprig Chipotle Adobado with mayonnaise, sour cream, or Greek yogurt to create a zesty dip or spread. It's perfect for accompanying chips, crackers, or even as a flavorful sandwich spread.
Flavorful Sauces: Incorporate Sprig Chipotle Adobado into sauces and dressings to add a bold and smoky twist. It works well in barbecue sauces, salad dressings, and spicy dipping sauces, infusing them with its distinctive heat and flavor.
Bold Seasoning: Sprinkle a pinch of Sprig Chipotle Adobado over roasted vegetables, popcorn, or fries for an extra kick. It adds a smoky and spicy element that will awaken your taste buds.
Enhancing Soups and Stews: Stir a spoonful of Sprig Chipotle Adobado into soups, stews, or chili for added depth and complexity. It brings a fiery warmth and smoky richness to your favorite comfort foods.
Let your creativity flow and explore the diverse applications of Sprig Chipotle Adobado. Whether it's marinating, grilling, dipping, or seasoning, this versatile sauce is sure to elevate your dishes with its bold heat and captivating smoky flavors.
About This Item:
Exotic Hot Sauce – Would you like a hot sauce that is earthy and smoky? A sauce that is complex enough to be used alone as a condiment but also pairs well with other ingredients? Sprig Chipotle Adobado is the secret to making your dinner a memorable experience! It is an extremely versatile hot sauce that is bold and flavorful, it is an absolute must have in your pantry.
Dried and Smoked Red Jalapeños: Our Chipotle Adobado features the finest dried and smoked red Jalapeño peppers. These peppers are carefully selected for their rich, complex flavors and fiery heat that will elevate your taste buds.
Intense Flavors and Aromas: The combination of drying and smoking enhances the peppers' inherent characteristics, resulting in an irresistible fusion of intense heat, earthiness, and smoky undertones.
Infused with Pineapple Juice: To achieve the perfect balance, our Chipotle Adobado is infused with pineapple juice, adding a touch of natural sweetness that complements the boldness of the chipotle peppers. Prepare to experience a harmonious blend of flavors.
VEGAN, GLUTEN FREE, KOSHER, NO ADDED SUGAR,and PALEO FRIENDLY – All of our variants have no added synthetic colors or flavors
This bottle hot sauce should be refrigerated after opening to preserve its natural heat, flavor and taste.
Ingredients: Pineapple Juice, Sugar, Coconut Vinegar, Chipotle Chilli 3%, Garlic Powder, Common Salt, Thickener INS 414, Class II Preservative INS 211, INS 202

Best before 12 months from manufacture
From the blog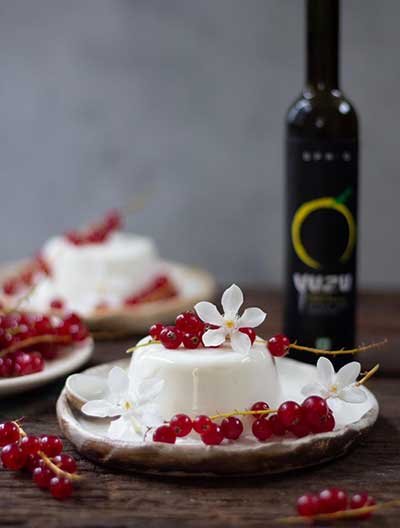 Sprig Yuzu Panna Cotta - a delightful fusion of creamy indulgence and the bright, zesty essence of yuzu. Crafted with...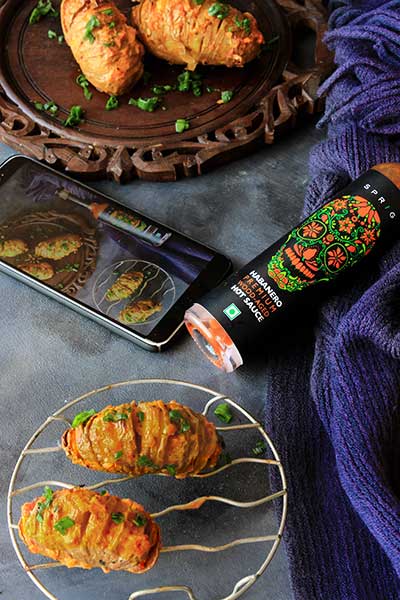 Try this fiery and tantalizing Sprig Habanero Spiced Hasselback Potato, generously loaded with oven-roasted Tomato and Garlic! This culinary masterpiece combines the perfect blend of heat, flavor, and texture, making it an irresistible dish for spice enthusiasts and food lovers alike.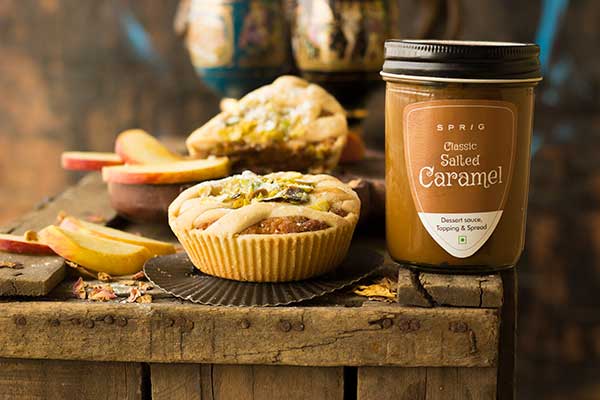 Savor the perfect balance of sweet and savory with Sprig Salted Caramel Apple Pie. This flaky, buttery crust holds a delightful blend of freshly sliced apples tossed in cinnamon and sugar. But what truly sets this pie apart is the layer of velvety Sprig salted caramel that blankets each slice. Baked to golden perfection, it releases an irresistible aroma. Indulge in this heavenly dessert, perfect for any occasion.