This gourmet finishing oil is meticulously crafted by infusing light Salad oil (Canola) with tender Ginger rhizomes, capturing their elusive freshness and aromatic qualities. It is a result of an elaborate process that ensures the finest flavor infusion.

Sprig Ginger Infused Salad Oil is a versatile addition to your culinary repertoire, offering a unique twist to various dishes.
Applications:
Salads and Soups: Drizzle Sprig Ginger Infused Salad Oil over fresh salads or hearty soups to add a burst of ginger flavor. Its aromatic notes will enhance the overall taste and provide a refreshing touch to your greens or warm bowls of soup.
Marinades: Use Sprig Ginger Infused Salad Oil as a base for marinades. Its delicate ginger infusion adds a zingy and fragrant twist to meats, seafood, or vegetables. Let the flavors meld together as you marinate, and enjoy the enhanced taste when you cook your ingredients.
Dressings or Sauces: Incorporate Sprig Ginger Infused Salad Oil into your homemade dressings or sauces to infuse them with a vibrant ginger essence. Whether it's a tangy vinaigrette, a creamy dressing, or a savory sauce, this oil will bring a delightful and aromatic flavor dimension to your culinary creations.
Asian Entrees: Enhance your Asian-inspired dishes by drizzling Sprig Ginger Infused Salad Oil as a finishing touch. Its subtle ginger flavor complements stir-fries, noodles, rice bowls, or any other Asian entrees, adding depth and complexity to the flavors.
Indian Curry: Add a touch of Sprig Ginger Infused Salad Oil to your Indian curry preparations to elevate the taste profile. The ginger infusion harmonizes beautifully with Indian spices, enhancing the overall richness and providing a fresh and aromatic note to your curry.
About This Item:
Healthy and Light: SPRIG Fresh Ginger Infused Canola Oil is a healthier option as it is made with Canola oil, which is known for its light and neutral flavor. The infusion of tender Ginger Rhizomes adds a refreshing taste without compromising on health benefits.
Flavor Enhancer: This oil is perfect for adding flavor to Asian entrees or Indian curries. Just a drizzle of this infused oil can transform your dishes, providing a vibrant and aromatic ginger essence that complements a variety of flavors.
All-Natural: This oil is made with natural ingredients and does not contain any artificial flavors, colors, additives, or preservatives. It provides a pure and authentic ginger experience, allowing you to enjoy the true essence of the herb.
Storage: To maintain the quality and freshness of the oil, it is recommended to store SPRIG Fresh Ginger Infused Canola Oil in a cool, dry place. This will help preserve its flavor and ensure that you can enjoy its delightful taste for longer.
Ingredients: Ginger infused Edible Refined Rapeseed - Low Erucic Acid (Canola oil)(100%).
Best before 12 months from manufacture.
From the blog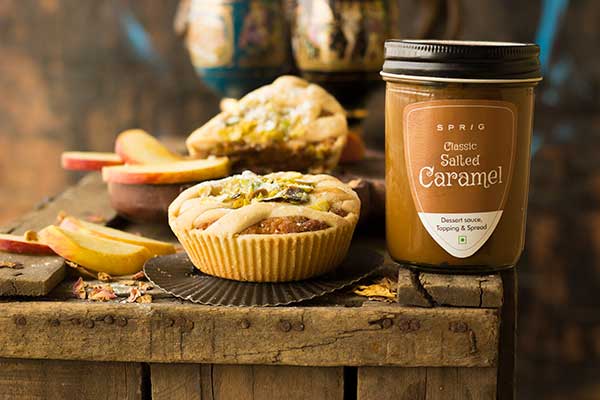 Savor the perfect balance of sweet and savory with Sprig Salted Caramel Apple Pie. This flaky, buttery crust holds a delightful blend of freshly sliced apples tossed in cinnamon and sugar. But what truly sets this pie apart is the layer of velvety Sprig salted caramel that blankets each slice. Baked to golden perfection, it releases an irresistible aroma. Indulge in this heavenly dessert, perfect for any occasion.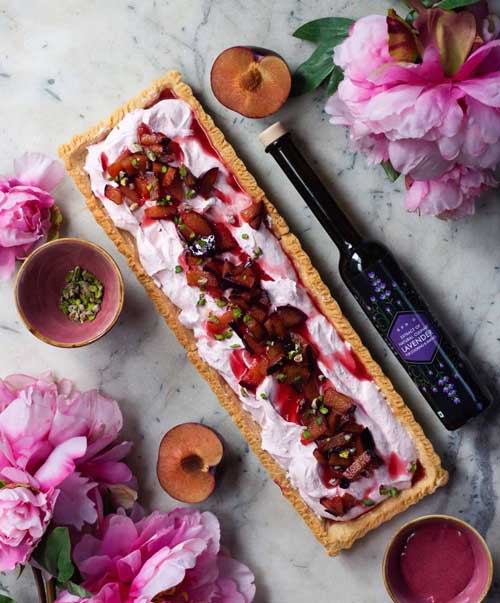 Treat yourself to the exquisite taste of our Sprig Plum Lavender Tart! Made with a buttery crust, sweet plums, and a generous sprig of premium-quality Sprig lavender, this dessert is a true indulgence. Our handpicked lavender adds a touch of natural sweetness and aromatic flavor to every bite, making it the perfect complement to the rich flavors of the plums. Elevate your dessert game and impress your guests with the luxurious taste of our Sprig Plum Lavender Tart. Order now and experience the ultimate dessert indulgence!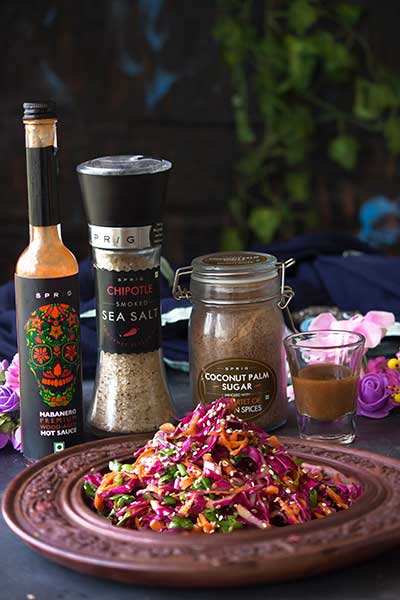 Sweet, Spicy, and Tangy Red Cabbage Slaw recipe is a delightful twist on the classic coleslaw. This colorful and crunchy...