The SPRIG Sichuan Peppercorn Sea Salt is a unique and versatile seasoning that combines the tongue-tingling flavor of Sichuan peppercorns with pristine sea salt. The SPRIG Sichuan Peppercorn Sea Salt is a must-have seasoning for anyone looking to add a fragrant heat and distinctive character to their culinary creations. Its versatility and ability to enhance a variety of dishes make it a valuable addition to any kitchen.

Applications:
Stir-Fries and Noodles: Sprinkle a pinch of the Sichuan Peppercorn Sea Salt into your stir-fried dishes or noodles for a burst of fragrant heat and a touch of numbing sensation. It adds complexity and depth to oriental-style stir-fries.
Grilled or Pan-Fried Meats: Use the seasoning as a dry rub for grilled or pan-fried meats such as chicken, beef, or pork. The combination of Sichuan peppercorns and sea salt adds a unique flavor profile that complements the savory taste of the meats.
Seafood and Vegetables: Sprinkle a light amount of the seasoning over grilled or steamed seafood, such as shrimp or fish, to enhance their natural flavors. It also works well with roasted or sautéed vegetables, adding a delightful twist to your side dishes.
Rice and Grain Dishes: Add a pinch of the Sichuan Peppercorn Sea Salt to rice or grain dishes like fried rice, pilaf, or quinoa. It infuses the grains with a subtle heat and aromatic undertones, elevating the overall taste of the dish.
Snacks and Appetizers: Sprinkle the seasoning over popcorn, roasted nuts, or homemade fries for a unique and flavorful snack. It can also be used as a finishing touch for appetizers like pan-fried cottage cheese or crispy tofu.
Seasoning for Sauces and Dressings: Incorporate the Sichuan Peppercorn Sea Salt into your homemade sauces, marinades, or dressings to give them a distinctive character. It adds complexity and a hint of spiciness to your culinary creations.
About this item:
High-Quality Ingredients: This seasoning is crafted using high-quality ingredients. The Sichuan peppercorns are carefully selected to ensure their authentic flavor and unique numbing sensation. The sea salt is sourced from the pristine waters of the Pacific Ocean, guaranteeing its purity.
Handpicked Sichuan Peppercorns:

The Sichuan peppercorns used in this seasoning are handpicked, ensuring that only the finest peppercorns make it into the blend. The peppercorns are known for their citrusy and slightly floral flavor, along with a tingling sensation on the tongue.

Versatility in Usage:

The SPRIG Sichuan Peppercorn Sea Salt is a versatile seasoning that can be used in various dishes. It adds a touch of heat and complexity to oriental stir-fries, noodles, and rice dishes. It also pairs well with grilled or pan-fried meats, seafood, and vegetables, enhancing their flavors with a unique twist.

Distinctive Flavor Profile:

This seasoning offers a balanced combination of fragrant heat from the Sichuan peppercorns and the natural saltiness from the sea salt. The result is a flavor profile that is bold, aromatic, and slightly numbing, giving your dishes a memorable taste experience.

Easy to Use:

The SPRIG Sichuan Peppercorn Sea Salt is easy to incorporate into your cooking. Simply sprinkle a small amount onto your dish while cooking or use it as a finishing touch before serving. Remember, a little goes a long way, so start with a light sprinkle and adjust according to your taste preferences.

No Artificial Colors or Additives:

This seasoning is free from artificial colors, flavors, and additives. It is made with natural ingredients, allowing you to enjoy the authentic flavors of Sichuan peppercorns and sea salt without any artificial enhancements.

Storage:

To preserve its quality, it is recommended to store the seasoning in a cool, dry place, away from direct sunlight. This will ensure that the flavors and aromas remain intact over time.
How to use Grinder:
Smoked chilli pepper salt and the pack looks elegant & stylish and at the same time it does the job perfectly as promised
Excellent for use in oriental and Italian cooking
Its tastes very nice and smoked sichuan pepper taste is good
Received yesterday. Product in grinder bottle. Nice concept. Ease and convenience of use. Good quality, design and looks.
can use this as flavour salt. we have used this in our chicken grill for some extra hot and taste. comes out well.
From the blog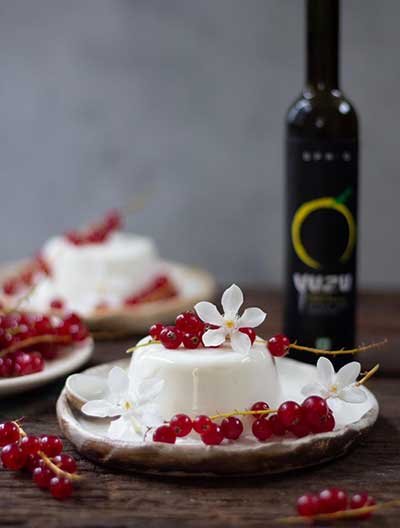 Sprig Yuzu Panna Cotta - a delightful fusion of creamy indulgence and the bright, zesty essence of yuzu. Crafted with...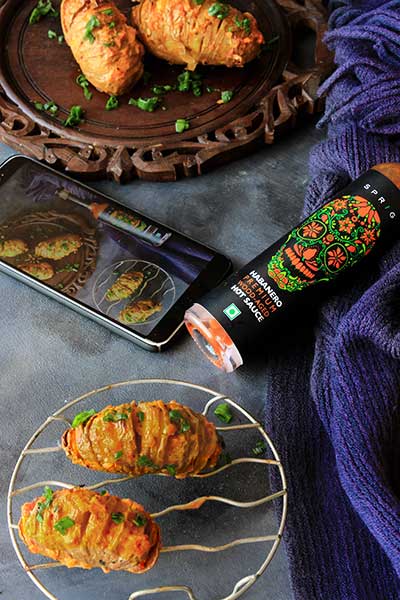 Try this fiery and tantalizing Sprig Habanero Spiced Hasselback Potato, generously loaded with oven-roasted Tomato and Garlic! This culinary masterpiece combines the perfect blend of heat, flavor, and texture, making it an irresistible dish for spice enthusiasts and food lovers alike.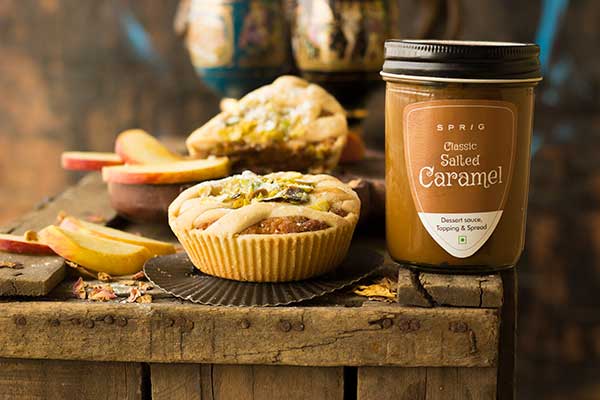 Savor the perfect balance of sweet and savory with Sprig Salted Caramel Apple Pie. This flaky, buttery crust holds a delightful blend of freshly sliced apples tossed in cinnamon and sugar. But what truly sets this pie apart is the layer of velvety Sprig salted caramel that blankets each slice. Baked to golden perfection, it releases an irresistible aroma. Indulge in this heavenly dessert, perfect for any occasion.